I have a confession.  We are a family of cookie monsters.  Chocolate chip, sugar cookies, gingerbread people – we don't discriminate, LOL.  But, of course, on our journey towards being healthier we don't keep cookies in the house anymore.  Sometimes, for special occasions, we will buy some or make them from scratch, but Art and I had come to the realization we needed to give up nightly sweets, for our health.
Then the good folks at Almondina® asked me to review some of their cookies.  Almondina is known as The Delicious Cookie Without the Guilt, so I was curious to see if they would be delicious and good for us.
About the Product:
from Almondina.com
Yuval Zaliouk and Grandmother Dina

Almondina® is the inspiring success story of a man whose great loves include both music and wonderful food. For generations his family loved his grandmother Dina's most secret cookie, which she called Petit Gateau Sec. Yuval Zaliouk, an internationally known symphony conductor and gourmet chef, always had a special place in his heart (and stomach) for this exquisite, crispy wafer with the delicate flavor of roasted almonds and the natural sweetness of plump raisins.

"Generous as she was in giving away her recipes, Grandmother Dina kept the one for Petit Gateau Sec a total secret until the end of her life. Only then did she finally reveal the secret to her daughter, Ahuda, my mother."

"It is with her blessing and with pride that the Zaliouk family shares these delicious, healthful wonders with your family."
Almondina cookies are an all-natural, crispy almond cookie that has no cholesterol and no added fat, salt, or preservatives and has only 30 calories. They come in 13 flavors including:
Original – America's all natural favorite with almonds and raisins
Chocolate Cherry – We combined the world's finest dark chocolate
with plump cherries to produce an irresistible, decadent treat without guilt.
Choconut – Rich tasting crunchy chocolate, but low in calories
Cinnaroma® – The original biscuit for cinnamon lovers
Gingerspice – Trend setting, with chunks of Australian ginger
AlmonDuo® – Double-nut wonder with almonds and pistachios
Anniversary™ – Award winning delight with a touch of anise
BranTreats® – Made with oat bran and the finest cinnamon "Cookies For Breakfast"
Sesame – Irresistible, exotic, flavorful
Seasonal Pumpkin Spice – A seasonal attraction with a delightful touch of fall spices combined with the highest quality almonds and pepitas (pumpkin seeds)Including new products:
Chocolate Dipped – the Original® dipped in the finest, pure, rich dark chocolate was
previously offered only certain times of the year is now available year round
Delights – The Original® Almondina totally encased in Milk chocolate
Yogurt Dipped – Brantreats® dipped on one side with a layer of all natural yogurt
My Review:
I was sent an Almondina sampler pack for review.    The sampler pack included Ginger Spice, Original, Choconut, AlmonDuo®, Chocolate Cherry, and Sesame flavors.  Here are my family's comments on the flavors;
Ginger Spice – Bud and his girlfriend loved this flavor.  They felt the ginger taste was just strong enough without being overwhelming.
Original – Not too sweet and the raisins provided just the right amount of moisture.  These were great with a chocolate spread.
Choconut – Just like the original, except we didn't have to dip it in chocolate because the chocolate was baked right in!!
AlmonDuo – This was Bud's girlfriend's favorite cookie!!
Chocolate Cherry – The taste was similar to the Choconut but without nuts.  The cherries complement the chocolate nicely.
Sesame – This is a bit more of a savory cookie.  Boo and I enjoyed dipping these in hummus and they were really good!!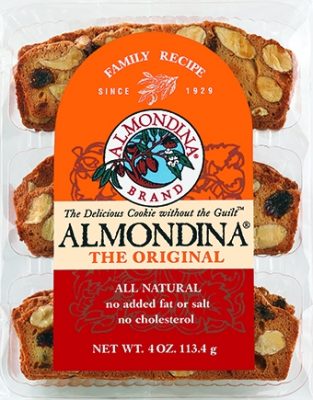 With all the flavors we loved the thin, crispy crunch and the fact that they are low-fat is a bonus!!
You can find Almondina at retailers such as Fairway, Hy Vee, Giant Eagle, Brookshire, Mollie Stone's, Hannaford, Jewel, Whole Foods, The FreshMarket, Walmart, Trader Joe's, Cost Plus World Market, TJ Maxx, Marshalls and many others.  You can also find them online at shop.almondina.com.
Follow Almondina on Facebook/Twitter.
I received complimentary product from the Almondina Company.  All opinions are 100% my own.
The folks at Almondina® have graciously offered to giveaway a sampler pack of cookies to one of my lucky readers.  You can enter on the rafflecopter below.  Open to residents of the US only.  Previous winners of Almondina giveaways are ineligible.
Save