It's my six month blog-aversary and I'm celebrating by giving away some items from my Zazzle store.
The first prize I am giving away is this Just Breathe t-shirt.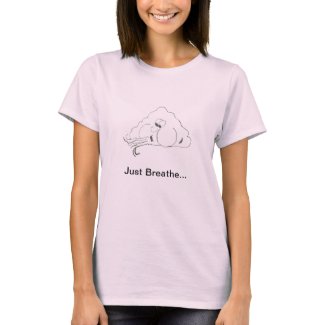 Just Breathe ladies ringer shirt
by
wizkey
Design a unique
custom t-shirt
at Zazzle
Boo drew this design for me as a way to help me cope with my chronic asthma.  It's also a good reminder to take a step back and relax when confronted with a difficult situation.
I love the little cloud puffing out its cheeks!!
The prize will be the winner's choice of this style, the women's tanktop or men's t-shirt style.
2nd prize is the Just Breathe design on a coffee mug.
Thank you to all those who entered!!
You can visit my Zazzle store here. Use code PERSONALTEES to save 10% off your t-shirt purchase in my store.
About the Author
Teressa Morris is first, a wife and mom of two grown children (who can't seem to move out) and two furbabies. She writes about her family life, as well as causes that are dear to her heart, with recipes, reviews and giveaways on the side.
Google+